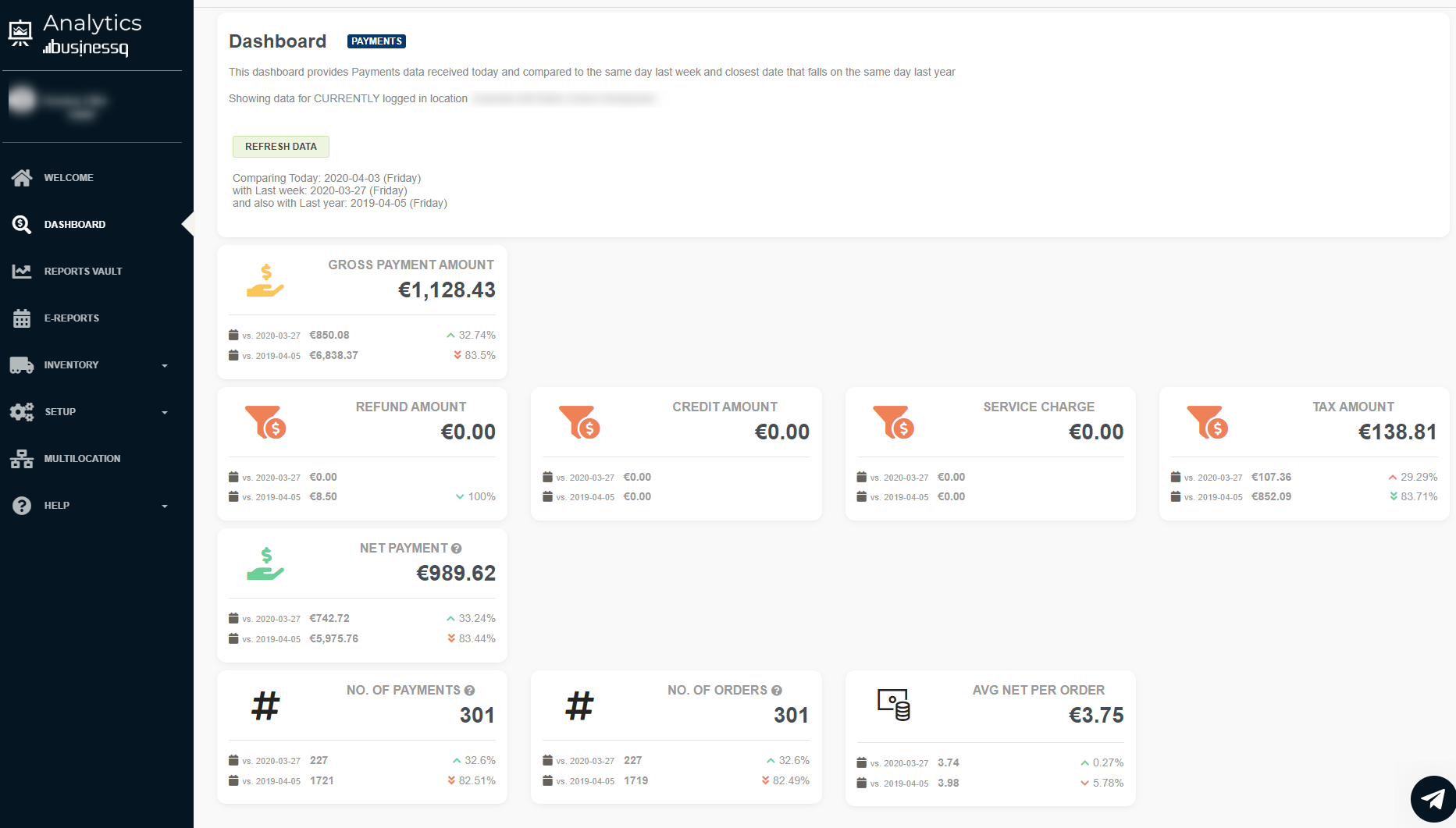 Analytics app April upgrade
Hi all, 
We want to share some super exciting changes in our Analytics app with you. Despite very demanding and stressful times we are all experiencing these days, nothing can stop us from doing what we believe in
Whether you are using Analytics from time to time or daily, you should read these changes as you might find something useful!
Here are some major changes and upgrades we are publishing this month.
New Analytics | BusinessQ Dashboard
The new Dashboard for Clover Merchants provides a very simple and visual view of the most important metrics for each business.
In the Dashboard, you can compare payment data received today with payments from the same day last week. Likewise, the closest date that falls on the same day last year is compared as well.
Metrics that you can compare in the Dashboard are Gross payment amount, Net payment, Refund amount, Credit amount, Service charge or No of orders, and some other as well.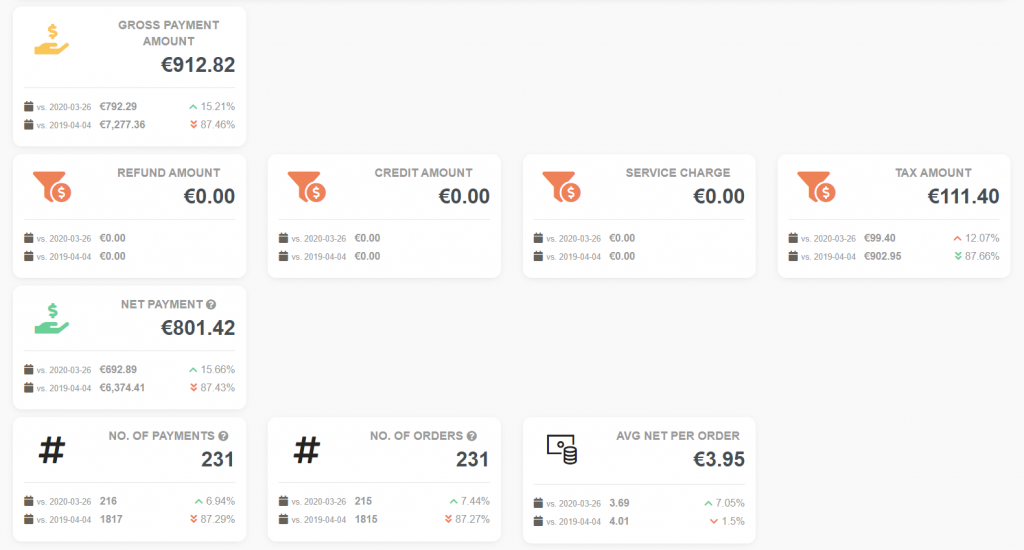 Analytics Dashboard is available to all users regardless of the plan/tier. The dashboard page is accessed from the main menu, right under the Welcome page.
More information about the Dashboard you can find here.
Extended reporting data period
Very good news for all Advanced tier users.
For the Advanced tier, we have extended the data fetching period up to 4 months (124 days). That means, that all order-based reports can be created for 4 months period.
Order based reports are reports that are grouped into sections:
Order based reports
Advanced reports
For all other tiers, a limitation of 62 days is still active.
e-Reports scheduler
We have noticed that some merchants named e-Reports the same as their e-mail addresses. When the e-mail address is in the name of the report, the report can't be sent. The reason for that is in special sign "@".
As a result, to prevent this, we disabled special characters in the custom name. This means, that in the e-Report name there can not be special signs like "#, &, space or @". In addition to that, we squashed a tiny bug with custom period selections.
Here is an example of how you can write a custom e-report name: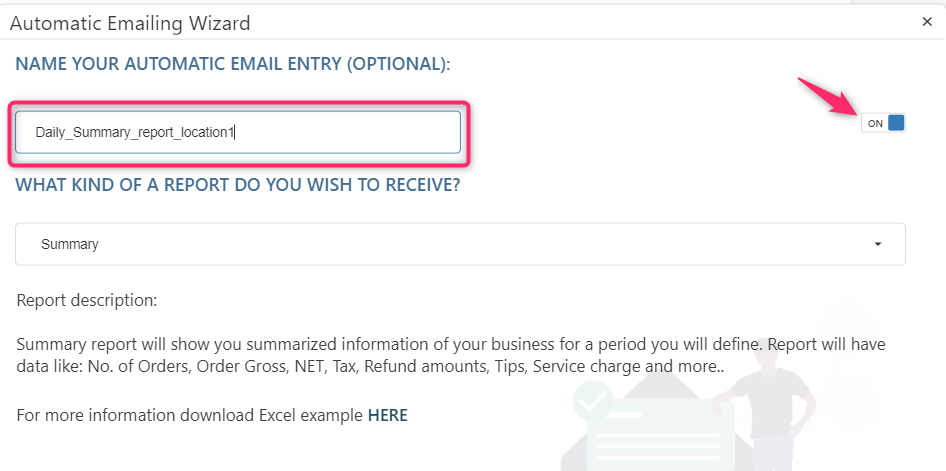 Cash tendered information
Based on our merchants' request, on the Payment Overview report, we added the "Cash tendered" column. Now you can see the amount of cash that was given when paying for some order.
The cash tendered data column is available in the "All payments" table. "All payments" table is available when the option "Fetch with data information" is active.


Split payment information
Often, especially in restaurants, one order is paid by more than one payment type. Here is an example of how it looks order with split payment.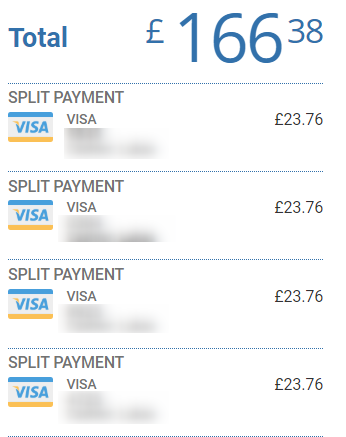 In cases like that, in the "Revenue per Payment Types" report you would see all those payment types. This can be seen in the details table in the column "payment type". Example of that you can see on the picture:
Since split payment is often confusing to merchants when creating reports, we added one note. This note informs you that split payment was detected in the analyzed period.

Some minor improvements…
No. instead of Nr.
Since it was often confusing to our US merchants, we changed Nr. to No. (as in 'numero' -> i.e., No. of Orders).
Order note column
As per merchant request, on Item and Order CSV export we added the "Order note" column. Item and Order CSV export is available in most of order based reports. How to access it you can see on the picture:

In addition to all columns, now in exported CSV file Order note column will be available as well.
Merchant name column
On the "Orders overview" report, we added the column "Merchant name". Merchants with multilocation will now have an easier time analyzing orders. This column is added to both detailed tables.
If you think this is all, you are wrong! On top of all already mentioned, we made many other minor improvements as well.
As a conclusion, even in a very demanding time for all of us, we are still working hard to make our app better every day. One day, when what we are experiencing today will be behind us, a great analytics tool will be needed more than ever. This is a reason why we continue to work and make our app better and more user friendly.
---
As always, we want to hear any suggestions you may have. After all, we are building this app for you.
We hope that you are as excited about the new changes as we are.
Have any new ideas or suggestions? Write to us!
---
Happy Analyzing!
Your Analytics | BusinessQ App Team