HOW IT WORKS
From your data source to information dashboard in minutes.

CONNECT
BusinessQ can connect to your Relational, Excel or CSV data sources through a single and easy-to-use front end. Just connect to your data and visualize it!
We are constantly working on new database connectors. In latest version, you can connect to:
Microsoft SQL Server
Oracle
MySQL
PostgreSQL
Excel files
CSV files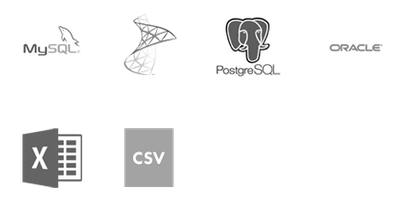 BUSINESS MODEL
In BusinessQ we developed "Business Model".
It is a meta model of reporting data.
With it, we succeeded in our basic goal – to enable ANY BusinessQ user to define and make his own report from scratch, all in drag and drop interface, and without writing a single line of SQL code!
Once defined, a Business Model is a helpful layer between an end user and any database or data warehouse. It supports all types of complex joins between tables (inner, left, right joins) as well as different operations inside joins ( =, >, <, …).

VISUALIZE
In BusinessQ, select appropriate data visualization from our carefully selected VISUALIZE tabs.

IN MEMORY ANALYTICS
After data retrieval in BusinessQ report, everything you do will be based on our fast in-memory routines.
You can perform:
DATA MANIPULATION
( SQL filters, in-memory filters,  automatic generation of time hierarchies)
SHOW DATA AS (absolute values, percent of total, ranking)
DATA AGGREGATION
( sum, count, average, minimum, maximum )
ANALYTICS
(sort ASC / DESC, top / bottom N items )

DASHBOARDS
Create appropriate BusinessQ Dashboards and take action on what is really important; stay up-to-date with what's going in your business.
Combine all the data you need from BusinessQ Reports, from multiple data sources and even multiple databases into single Dashboard.