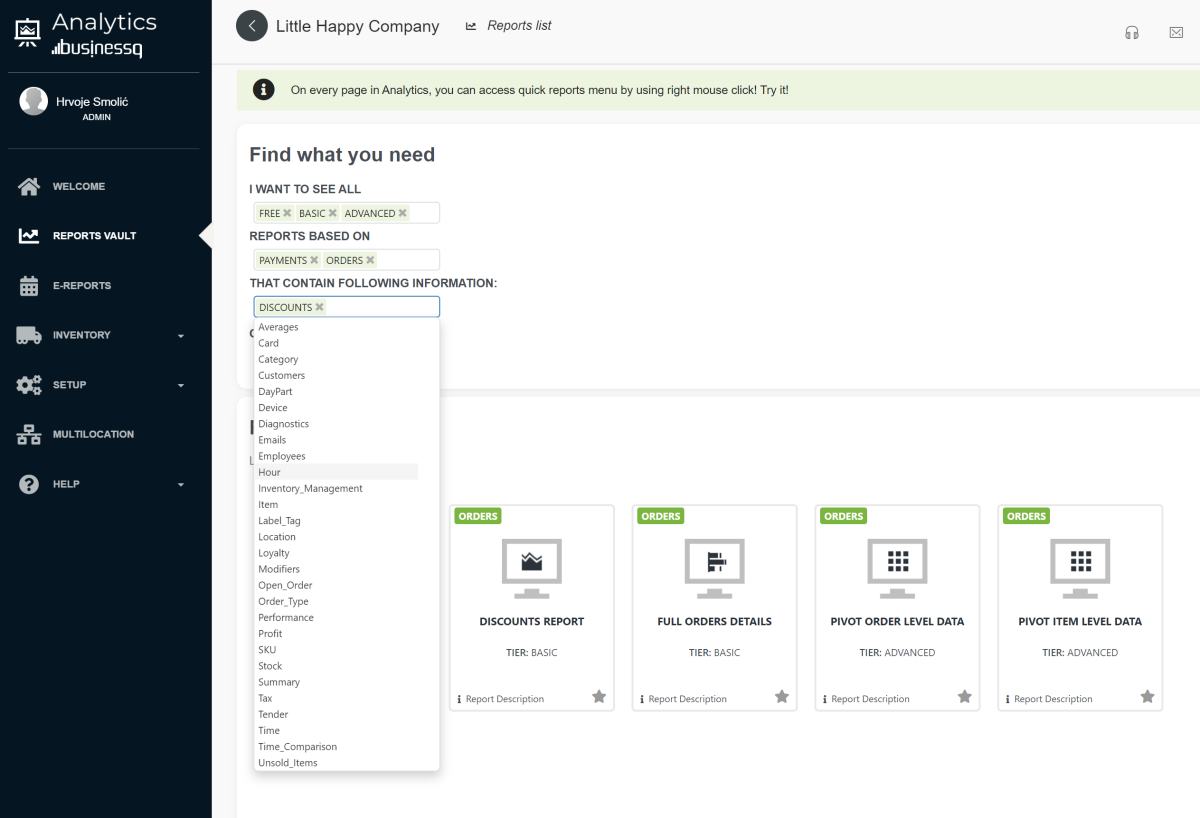 How to find a report in the Analytics app?
Hi all, 
Recently we have published a new, redesigned Analytics | BusinessQ App for Clover merchants.
One of the changes we made is an easier and more intuitive way to find a report you need.
In the redesigned app, reports access is possible in several ways. You can even quick-find your report no matter where in the app you are at the moment. Let's check what we are talking about…
You can find reports in two main ways:
by Direct access
by Report search
1. Direct access to reports
When you know which report you need, it is very simple to find your report by direct access to it. Wherever you are in Analytics, you can use this option. You can directly access reports by two options:
a) "Report list" in the top menu bar
In the top menu bar, right to your company name, you can find the icon "Report list". When you click on it, first you will see 4 main report groups:
Payment based reports
Order based reports
Dashboard
Advanced reports
If you select any of these menus, you will see all the reports that are in this group. Further, Order based reports have 4 subgroups:
Order (order level information)
Item (item level information)
Time (all about time, hour, part of a day…)
Diagnostics reports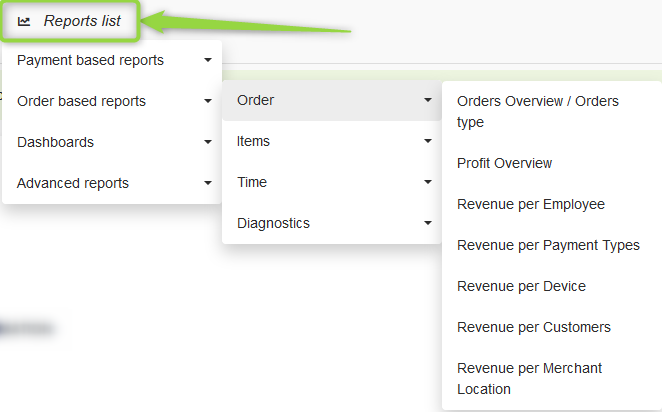 b) "Quick menu" report list
You can access reports if you click on the right mouse button anywhere in the app. Again, you will see all reports divided into four groups.
Wherever you are, simply click on the right mouse button and you will see the reports menu.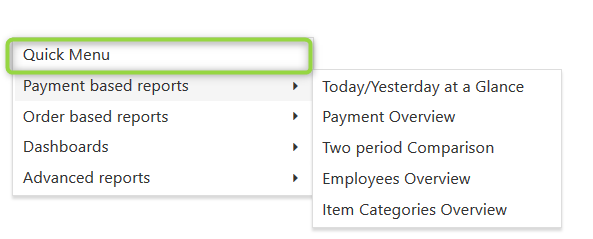 Wherever you are, simply click on the right mouse button and you will see the reports menu.
2) Report search in Reports vault
If you are not sure which report you need for a particular case, we recommend using a search feature in the reports Vault. There, you will see all the available reports. Based on your search input, Analytics will filter only reports you need.
Reports vault page can be found right under the welcome page like showed in the picture.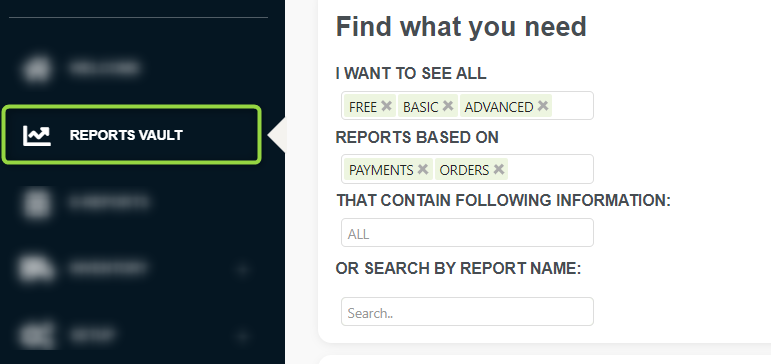 There are many ways how to search for a right report like:
All reports in your tier/plan
Search by report types
Choose the content of a report
Search by content
Search by name
Example 1. Search by report types
Depending on the type of report you are looking for, you will see all the reports in that group. In Analytics there are two basic report types:
payment based reports
order based reports
More about report types and their differences you can read here.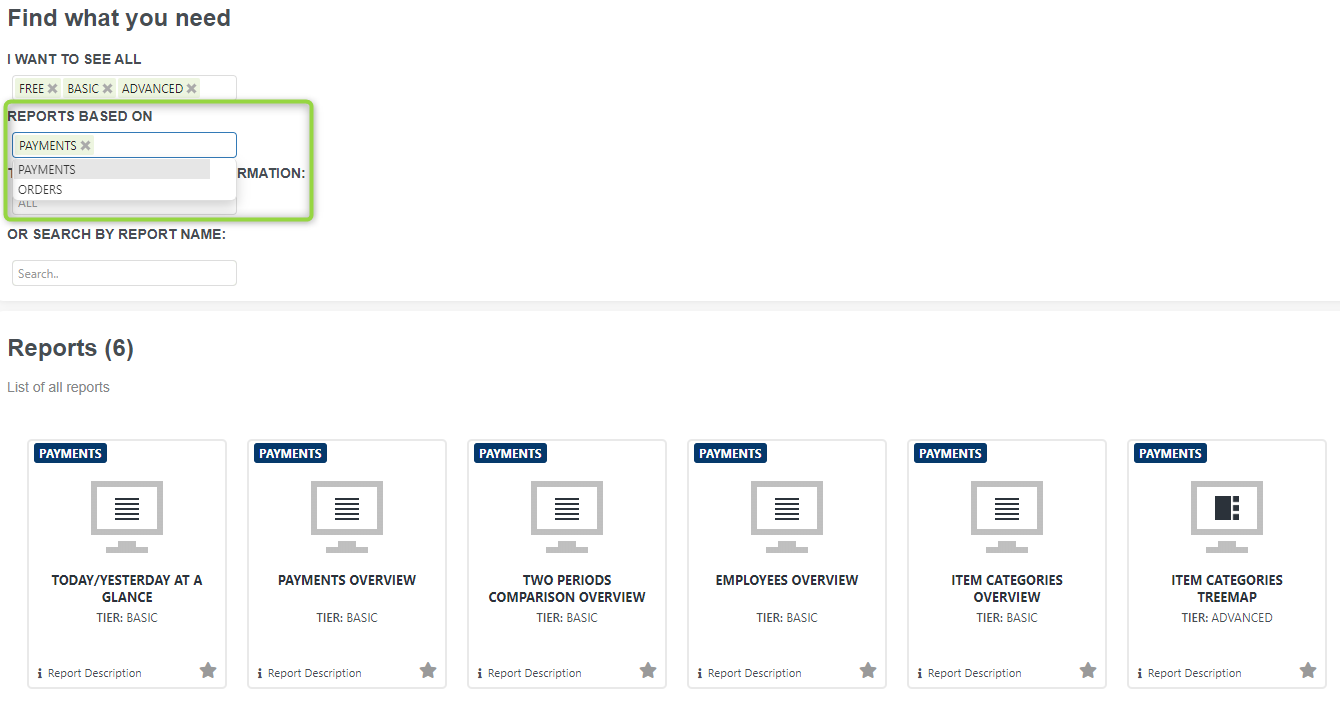 Example 2. Search by content from the drop-down menu
If you are not sure which report you need, look at the suggested tags in the content list. Click on one or more predefined tags, and you will see all the reports related to them.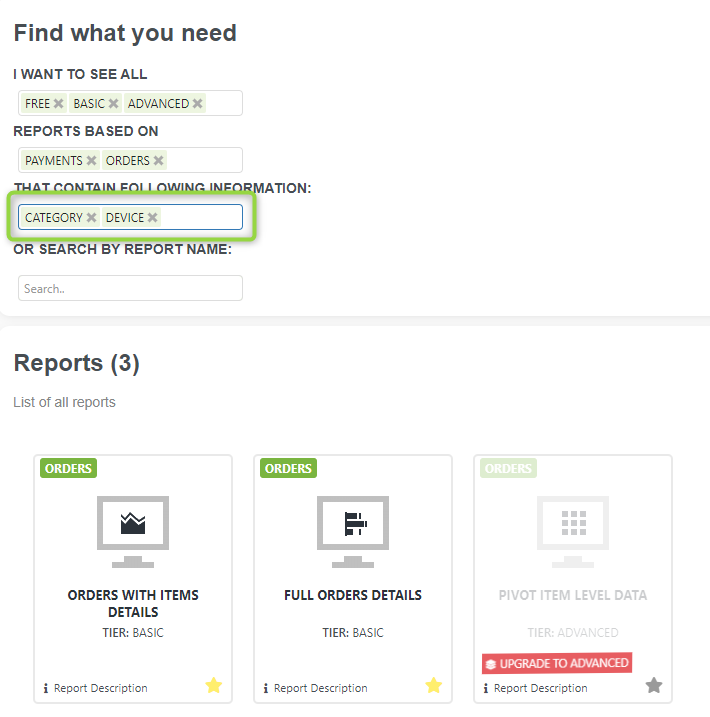 Example 3. Search by report name
Enter the name or content you need to find, and the reports that correspond to your search will be listed: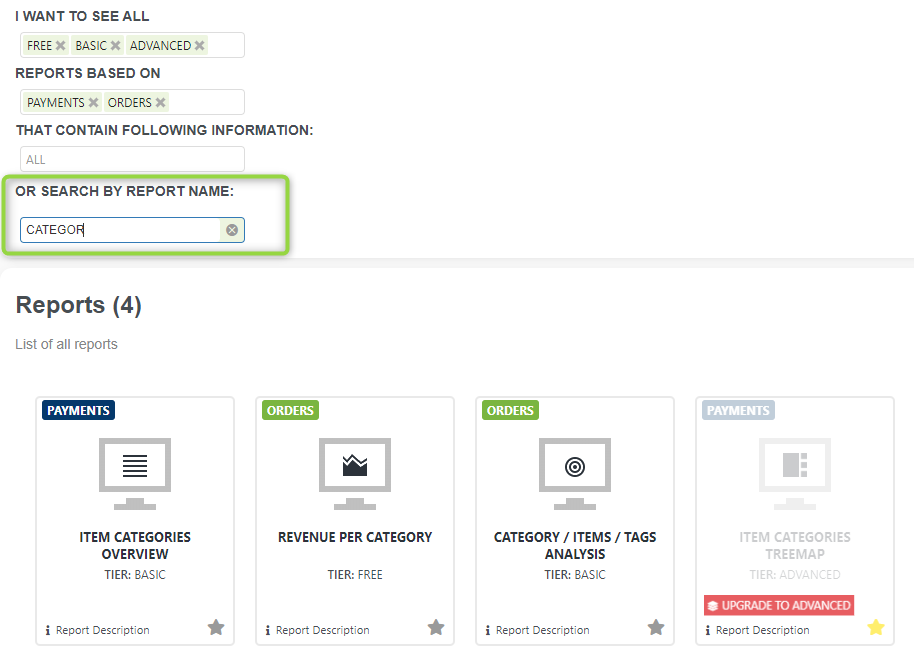 Remember, you can only open a report that belongs to your tier/plan. You will see other reports, but without the possibility to open them. How to upgrade your subscription? Read this.
Reports are here for you – so use them! When you like a report and want to reuse it, mark it as a favourite!
You can read more on that in one of the next blog posts. Stayed tuned for more news.
---
As always, we want to hear any suggestions you may have. After all, we are building this app for you.
We hope that you are as excited about the new changes as we are.
Have any new ideas or suggestions? Write to us!
---
Happy Analyzing!
Your Analytics | BusinessQ App Team