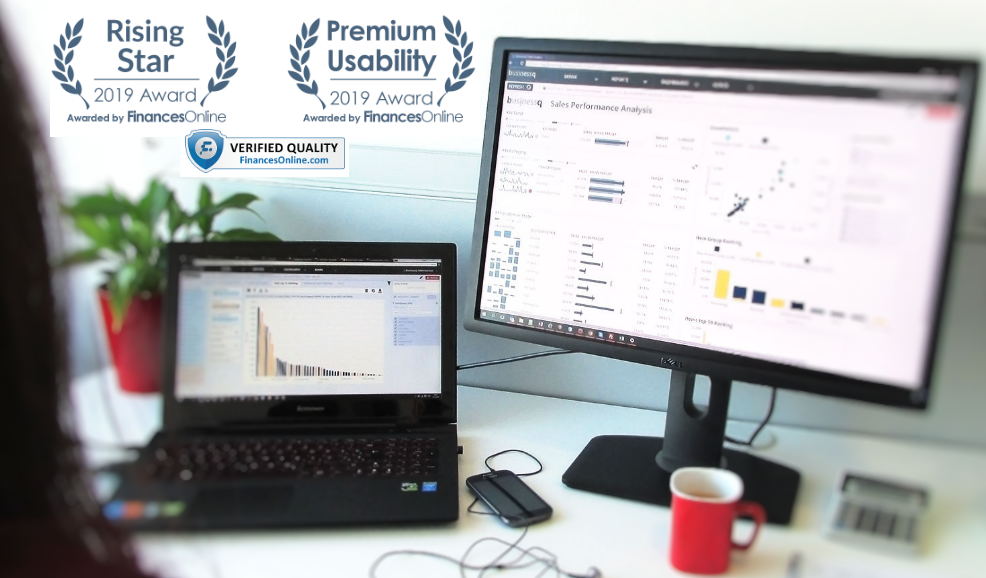 BusinessQ business intelligence software wins 2019 Awards from Platform for Software Reviews
We proudly announce that BusinessQ has just won the Rising Star 2019 Award and Premium Usability 2019 Award by FinancesOnline!

We invested a lot of passion, efforts, interdisciplinary work, and years developing our data visualization and business intelligence software BusinessQ. In light of this, we are more than proud to share with you that BusinessQ has won such prestige awards from one of the leading B2B software review platforms. These recognitions are given annually to outstanding solutions that have delighted both customers and the FinanecsOnline critics, and we are delighted that our product is recognized and took a place among the best business intelligence software solutions.
Earning the verified quality seal of FinancesOnline, a user satisfaction of 100%, and a total score of 8.0, BusinessQ is listed as one of the TOP 200 business intelligence solutions on the market. The review site compared BusinessQ against its competitors in the market.


Its "powerful visualizations," comprehensive insights, cost-friendly BusinessQ pricing, and good reputation are among the highlights that set the software apart from the rest, according to FinancesOnline.
Please visit FinancesOnline to read their first-hand analysis and find out what is the best business intelligence software for your business.
Of course, we would also be happy to hear your thoughts, and so we'll appreciate if you give a user review to BusinessQ!
We are developers of data visualization software BusinessQ. Try it for free and make reports and dashboards that make sense, without chart junk.