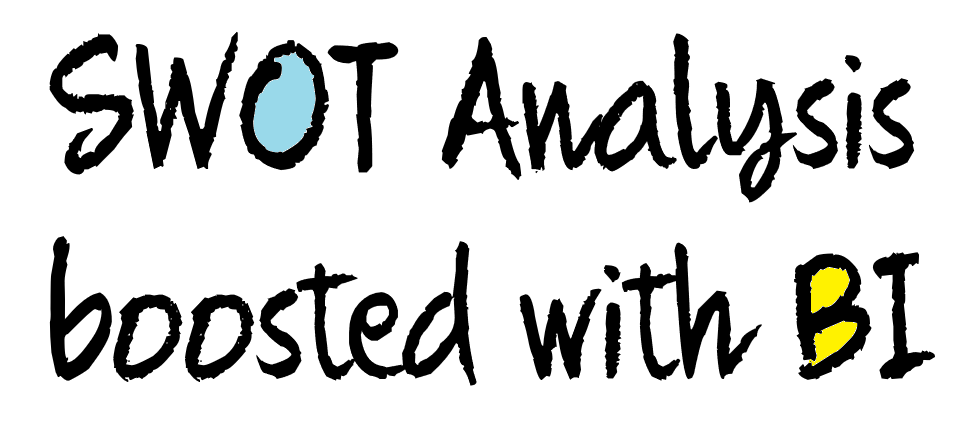 SWOT ANALYSIS BOOSTED WITH BUSINESS INTELLIGENCE
Every company has its strengths, weaknesses, opportunities, and threats. Those factors are usually commonly described as SWOT analysis which assess a business, its resources, and business environment. The essence of this analyses is to discover what company does well and how can it be improved, how to handle potential threats, how to make the best of opportunities around the company and how to identify and face weaknesses. Opportunities and threats need to be spotted, predicted and evaluated so the company can handle them and react on time. Every company has to pick among opportunities which one to grab, which can do well for their business. When it comes to threats, the company estimates potential threats, considers the worst scenarios. That way the company can easier understand what's happening and handle the issue if any threat actually comes true. [1]
Opportunities and threats are originated outside a company. They can't be controlled by the company and company can only control how to anticipate and react to them. Unlike them, strengths and weaknesses are within the company's control.[2]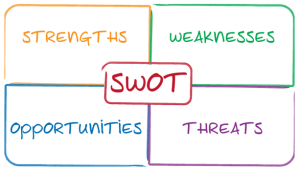 Picture 1: SWOT analysis concept[3]
Strengths and weaknesses can be evaluated and interpret based on existing information company collect and processes. Strength describes a company's competitive edge while "weaknesses give rivals an opportunity to gain the upper hand".[4]
Companies are using business intelligence software as an essential tool to monitor, control and analyze strengths and weaknesses, two factors that the company can have an influence on. "From inventory management, to accounting, to customer intelligence and beyond, there are many ways you can use BI software to inform your decision-making, increase operational efficiency, and gain a competitive edge".[5]
The right information, delivered to the right people at the right time can improve strengths and minimize as much as possible company's weaknesses, and that's what business intelligence is all about. Business intelligence tools help decision-makers to analyze company data, predict trends and be informed of any potential business problem.[6]
Picture 2: BusinessQ BI software, an example of Project Management Dashboard[7]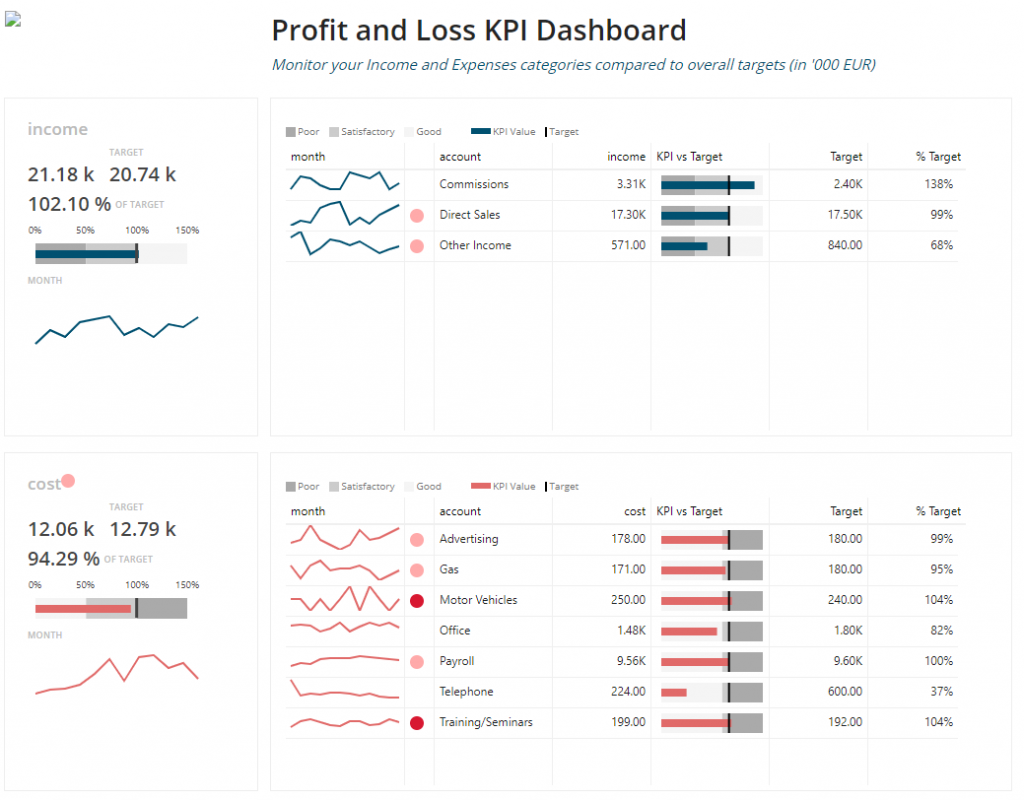 Picture 3: BusinessQ BI software, an example of Profit and Loss KPI Dashboard[8]
As it can be seen in picture 2 and 3, the type of business intelligence software and reports accessible in someone's dashboard strictly depends on the type of business and business needs. Mid-sized and smaller companies have the very same reason for using BI as do large companies: to be more competitive, to better understand the performance of their business, to support decisions for future directions and to identify issues. While companies need depends from company to company, one is for sure: every organization requires Business Intelligence at some level.[9]
We are developers of data visualization software BusinessQ. Try it for free and make reports and dashboards that make sense, without chart junk.
[1] Hui,J. Analyzing Your Business's Strengths, Weaknesses, Opportunities, and Threats, Moneywatch website. URL: https://www.cbsnews.com/news/analyzing-your-businesss-strengths-weaknesses-opportunities-and-threats/ [accessed: Dec. 04, 2018]
[2] SWOT Analysis Helps Businesses Plan to Growth, Finance New Mexico website. URL: https://financenewmexico.org/articles/general-business-advice/swot-analysis-helps-businesses-plan-growth/ [accessed: Dec. 04, 2018]
[3] Ibid.
[4] Ibid.
[5] Wilcox B. How Business Intelligence Software can Help you Increase Operational Efficiency, InnovationManagement.se website. URL: http://www.innovationmanagement.se/2017/02/09/how-business-intelligence-software-can-help-you-increase-operational-efficiency/ [accessed: Dec. 04, 2018]
[6] Business Intelligence – right information to the right people at the right time, Qualia Data Sciences LTD website. URL: https://qualiadatasciences.com/business-intelligence/ [accessed: Dec. 04, 2018]
[7] BusinessQ – self service BI software/data visualization/ data discovery, BusinessQ software website. URL: https://businessq-software.com/live-demo/ [accessed: Dec. 04, 2018]
[8] Ibid.
[9] Business Intelligence – right information to the right people at the right time, Qualia Data Sciences LTD website. URL: https://qualiadatasciences.com/business-intelligence/ [accessed: Dec. 04, 2018]