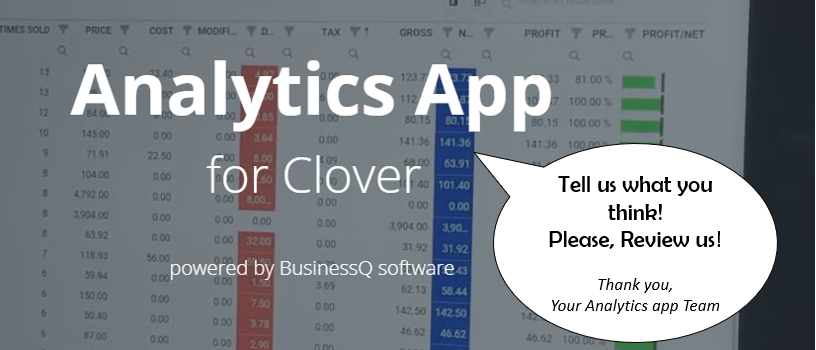 Review Analytics | BusinessQ app on the Clover app market
We are happy to announce that you can review our Analytics | BusinessQ application on the Clover app market!
If you still haven't used our app and you are a Clover POS merchant, you can try it for free at:
Please share your experience with our app; we would like to hear if you are satisfied with us or maybe if you have some critics of any kind.
Constructive critics are our favorites – they help us develop the app that fits your business perfectly!
You can review us as described below:
On the Clover merchant dashboard:
Login to Clover web dashboard – > Go to More Tools -> installed Apps  
             
 Click on our App :

Scroll down and you should see Ratings and Reviews section    
There you should be able to add your review.

On the Clover device:
Launch the More Tools app.
Select Installed Apps from the menu at the top left.
From the list of installed apps, find and select the app. The App Details page for your app will appear.
Select Rate This App at the bottom of the page and submit a rating and review.
 Thank you in advance and happy analyzing!
Your Analytics | BusinessQ for Clover Team