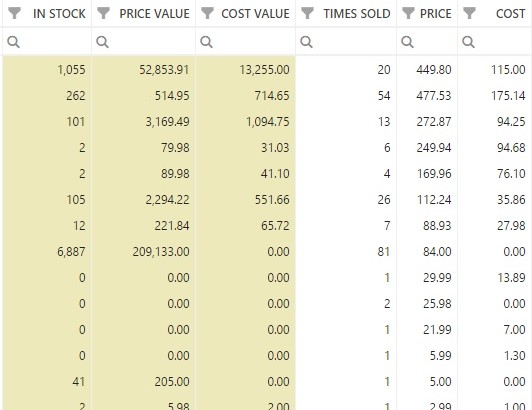 Analytics – new version 16.6 27062016

Hi everyone!
We are happy to inform you that new version of Analytics is available with some exciting new features.
To make sure you have the latest update, refresh your page or restart your browsers. You can check your version by going to Help Page (?).
For all questions just contact us on clover@qualia.hr
Improved Employees report
In a case where one employee is under multiple different names in multi-location setup (for example: Tanja V., T. Vidanovic, Vidanovic T., Tanja Vidanovic) it makes a mess of the report and is hard to track. For this purpose, we added Nickname and CustomID columns to give you better control over this situation.
Calculating value of your items in stock
If you ever wanted to calculate the total inventory value (by category, or by items) then you will love the next feature. On reports Revenue Per Items, Revenue Per Category and also on dashboard Category/Items/Tags Analysis we added columns Price Value and Cost Value which calculates the value of the items in stock.
---
We hope you will find this new features useful.
Happy Analyzing!
Your Analytics for Clover Team