Analytics App – New version 18.01/New features
Hi, everyone!
In today's blog entry for our Analytics App for Clover, we are presenting you with two new features of Analytics 18.01 version which our users wished us to implement.
Please make sure that you have the latest version of Analytics by going to Help section where Analytics version is shown.


If by some chance your version is different than 18.01 please refresh Analytics app page couple of times by pressing key F5.
New features:
Custom day part names
A new option has been added to the general settings for BASIC & ADVANCED users
Removed the default 'Part 1', 'Part 2', 'Part 3' or 'Part 4' markers for working shifts
Merchant can now use custom names for their day parts (e.g. Breakfast, Dinner, Happy Hour )
These can be used to give a merchant a better overview of the Revenue per Day Part report and its respective report in the Master Summary
Example of custom day part names: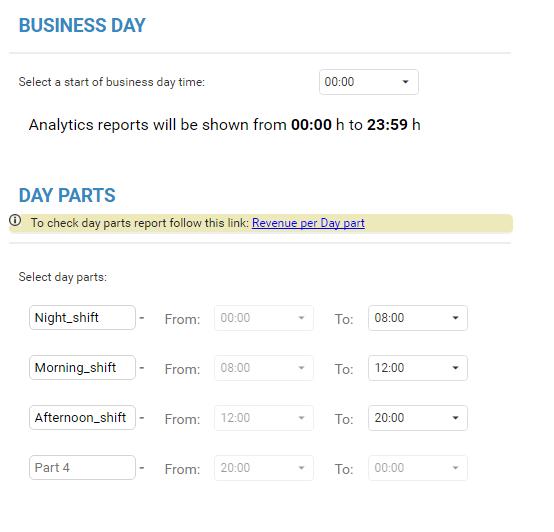 Example of custom day part names in 'action' :

And custom day part names are shown in the table of Revenue per day part report:

Automatic Emailing
A new option has been added for ADVANCED users
Merchants now have the possibility to receive automatic email reports
A selected number of reports can be chosen with various settings which include :

Report
Locations
Time of receiving the email
Email addresses
Days offset
Decimal separator

Merchants will get daily emails with a report based on his setup settings
Example:

If you need more details how to set up automatic emailing please follow this link: Automatic Emailing Faq
We hope that you will find this new features useful and if you have any questions, please do not hesitate to ask
Happy Analyzing!
Your Analytics for Clover Team