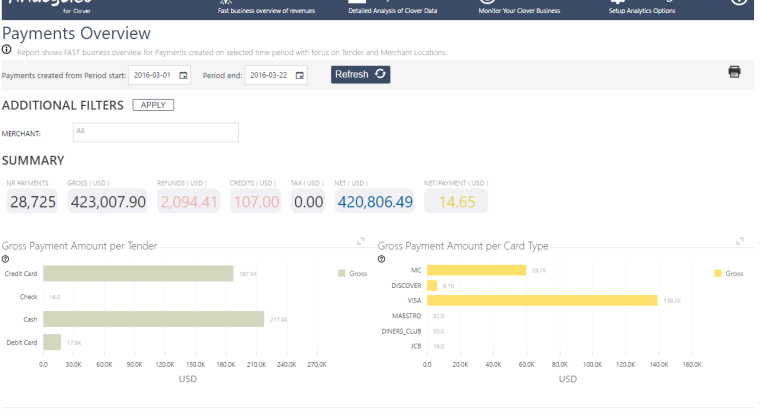 Analytics: super-fast business Overview reports!
Hi all,
for some time now we have been busy with the efforts to speed up data fetching for Analytics reports.
Finally, we developed what we think is one of the most important features in Analytics right now.
Why? Because typically if you needed 3 minutes for your 10 locations to refresh report, now in Overview reports you will need only a few seconds!
You selected larger periods for your report (30 days) and had to wait 1 minute to get results? You have Analytics multi-merchant feature with 10 locations and now all reports are 10 times slower.
Sounds familiar?
If so, you will be very happy to hear that we've just publish completely new section of Analytics app live. It is called OVERVIEW and it is accessible in BASIC Analytics Tier.
The idea is this:
if you need more details in your reporting, use Analytics like you used it up to now, from Reports or Dashboards menu. This reports will give you all available details, but are slower
if you need speed and just want to see basic information, a fast business overview without all the details, just use reports under Overvew menu:
NEW VERSION
Sometimes your web browser caches data. If you want to be sure that you are working on the latest version on Analytics App, make sure version on ?-INFO page is as follows:
If you don't see this version in your web browser, try to reload web page (F5) a few times.
If you still have some problems or questions, just contact us on clover@qualia.hr
OVERVIEW REPORTS
There are 3 super-fast reports in Overview menu:
Payments Overview
Employees Overview
Item Categories Overview
Two Periods Comparison Overview
Every report can be filtered by your merchant location, if you have more then one.
On Payments Overview you can see summary tab, Payment Amount per Tender and per Card Type:
At the bottom of report there is Details table with performance of all your locations. Notice % of total column – an incredibly easy way to compare your locations :
Employees Overview and Item Categories Overview are similar, but with different focus (on Employees or Item Categories).
We hope you will find this new features useful.
Happy Analyzing!
Your Analytics for Clover Team