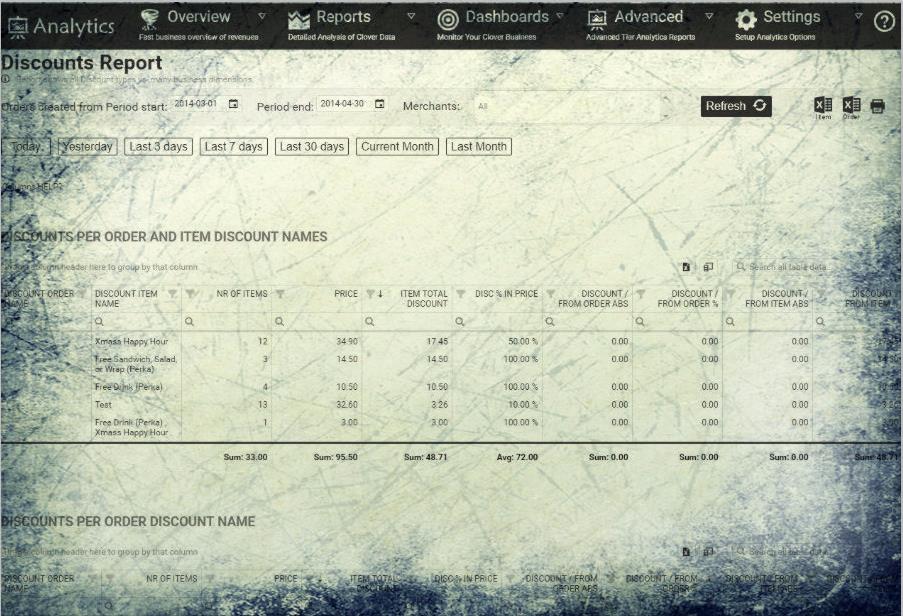 Analytics App for Clover – Discounts Report
Hi, everyone!
In today's blog entry, we are going to describe Discounts Report from our Analytics App for Clover.
The time of winter holidays is approaching fast and with it appropriate discounts. So maybe it's time for you to start preparing your discounts whether you wish to attract new costumers, increase sales or free up the room for new products – discounts are helping your business and we are here to help you visualize success of using them.
To access Discounts Report click on Reports-Items-Discounts Report as shown in the picture: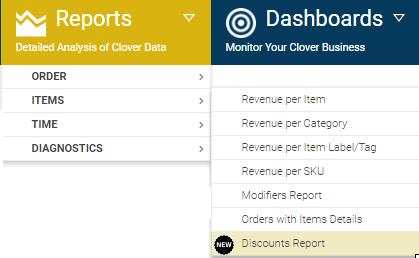 Discounts Report is showing you all Discount types per different business dimensions.
This way you can track Discounts per Hour, per Location, per Category, per Items, per Customers, per Employees, per Item Discount Names and per Order Discount Names.
In Discounts Report, you can find valuable information such as how many Items with Discounts were sold and by what price. Also, you can find more useful calculations such as the percentage of discount in the price.
Sometimes, you can have seasonal sales, or for example, each Monday you give 10% off for a group of products. With our Discounts Report, you will know exactly how much did you earn by putting those Items on sale, and in the end, if the whole sale was successful.
Discounts Report will show you the names of the discounts you applied either on the whole Order (example: every Tuesday from 9AM-11AM, you give 5% off for the whole order) or on the specific Items (example: today all apples are 15% off). This way you will always know how much did you accomplish with each Discount you applied in certain time period.
See also discounts per items: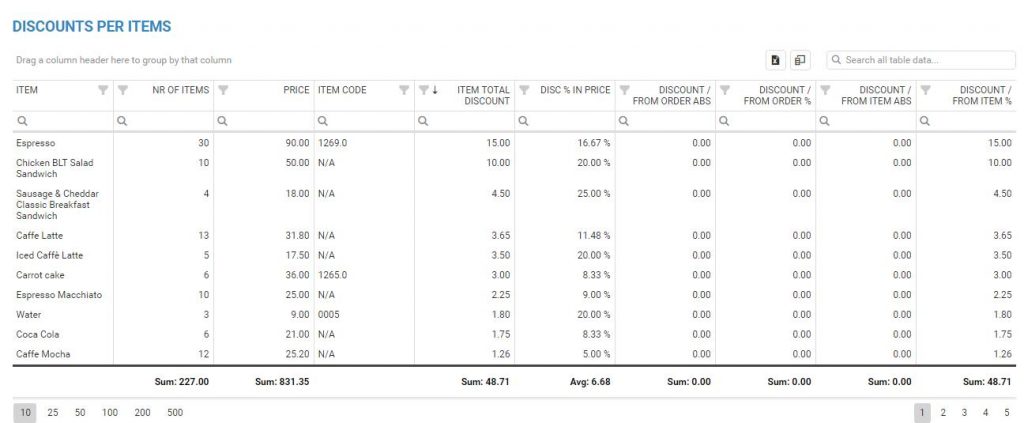 You can also see discounts per your Employees where you can see who is giving most and least discounts, spot possible frauds and scams.

" One customer well taken care of could be more valuable than $10,000 worth of advertising." 
Where would we be without Customers? With this report, you can track their purchases and see if they deserve some more discount to keep them returning to your place.
Discounts per Customer will show you the number of items your customers purchased with their discounts percentage in price and other valuable information you can see in a picture below:

See in which period of a day are you giving most of the discounts :

We hope you will find this report useful.
Happy Analyzing!
Your Analytics for Clover Team