New version changes – February 2019
Hello everyone,
We are informing you about changes that we did for Analytics App for Clover in February 2019
Item Quantity
We've added an often requested field called 'Item Quantity'. While we have a similar field 'Item ID (count), it does distinguish itself. The problem with counting items is that sometimes our merchants sell an item that is uncountable and saying that merchant sold one piece of it cannot be justified. An example would be an all-you-can drink soda machine, you could sell one order on that item, but that would not be an accurate representation of how much that item really sold. Comparing selling 1l versus 10l of soda and putting them in the same basket is not a fair comparison.
This is why we created the Item Quantity field where you can accurately measure how much items like these sold. You can still use the quantity field to measure counts as well

This field has been added to Pivot Item Level Data, Stock Value Report, Full Orders Details, Revenue per Sku and Revenue per Tag
Dwell time
We've also added another new field into our Pivot Item Data Level and Pivot Order Data Level called 'Dwell Time'. Dwell time measures the difference in time between the initial order and the payment of the same order. This field show prove useful to merchants whose clients tend to stay in their establishment for longer periods of time and merchants whose customers dwell times usually correlate to happier customers and/or more profit.

No matter if your business thrives on longer customer dwell times or getting customers in and out as fast as possible, this new field should be a welcome edition.
Logo
We've added logos to our welcome screens. If your company has a logo uploaded to your Clover station you should see it displayed in the merchant information tab in the welcome screen.
Here is an example of how it would look like: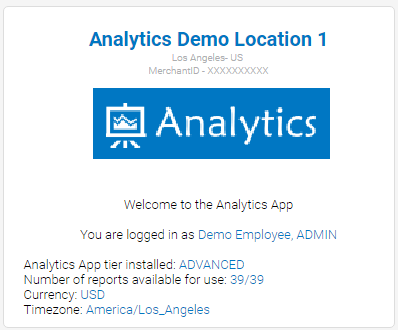 Other changes
We improved the speed of following reports; Discounts Report, Full Orders Details
Minor fixes
We are opened for suggestions of what would you like to see in Analytics App in the future or what would you like us to improve
We hope that you will find these changes refreshing and if you have any questions, please do not hesitate to ask
Happy Analyzing!
Your Analytics for Clover Team